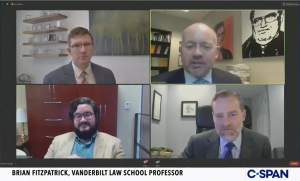 Speaking virtually at a Federalist Society event titled "Advice and Consent:  The Mechanics, History, and Contemporary Developments in Federal Judicial Selection and Confirmation," Prof. Brian Fitzpatrick of Vanderbilt Law School (upper right) endorsed an 18-year term limit for Supreme Court justices.
Fitzpatrick provided enthusiastic support for the proposal twice, first in response to a question about the relative youth of Trump judicial nominees and a second time when the moderator specifically asked about the prospect of ending judicial life tenure.
Among the benefits Fitzpatrick cited in providing the rationale for a staggered and nonrenewable 18-year term for Supreme Court justices were to de-escalate the political pressure of each nomination and confirmation, that the founders never envisioned the interminable terms we see today, and to allow the nomination of more experienced candidates.
While reserving the question as to whether there could be a Supreme Court term limits proposal enacted via statute that he personally would believe to be constitutional, Fitzpatrick did note that there are theories that would hold such legislation constitutional.
He added that these theories require retaining justices who have completed their term as senior justices, something FTC proposals have included.